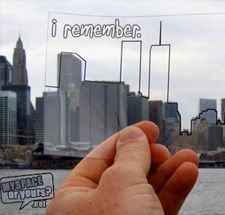 Ben woke me up saying we were under attack. He had a weird look on his face. We had an ant problem and i really thought he woke up to a bunch of ants in the kitchen or something. I walked into the living room and saw the TV. The first tower had already collapsed. I was watching FOX and the second tower started to go and they initially thought they were showing a replay of the first tower and then they realized it was the second tower. I was crying and immediately called my mom. As the day went on I just watched and watched. I waited for the victims to be rushed off to the hospital. There should have been hundreds of them, thousands of them. It didn't happen. The fences covered with loved ones faces. Moms, Dads, Sisters, Brothers, Aunts, Uncles, Grandma's, Grampas, Sons, Daughters and Friends were lost that day.
I am glad that they are all honored every year on the anniversary, but I wish you heard it more often.
I didn't know anyone that was killed that day. I did know of
Angel Juarbe
He played in and won in the tv reality show
Murder in small town X
. I watched every show, it was an ok show, lol. FOX station very quickly and only once said that he was among the missing. He was a FDNY. My heart sank. To see someone alive and in a show and then he's gone, it was so sad.
i'll be back................ crying kids